Support #TextSanta charities with Charity Christmas Cards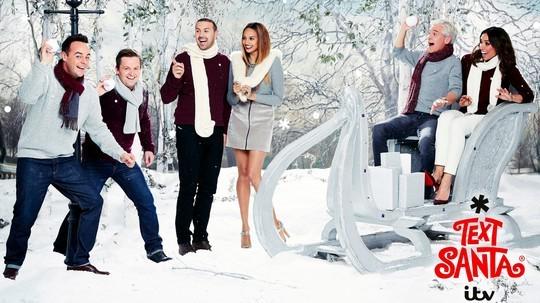 Find out how you can support the 2014 #TextSanta charities with your Christmas card purchases!
Another Christmas is fast approaching and of course this brings the festive cheer and the festive goodwill. What better way to start the season of goodwill than ITV's 2014 TextSanta campaign and the forthcoming three-hour extravaganza aimed at raising money for this years selected charities?
On Friday 19th December from 8pm, a myriad of ITV's finest will gather to showcase an evening of events aimed at raising money for the charities that care and help people all over the UK year-in, year-out. This year's selected charities include the Alzheimer's Society, Guide Dogs, Marie Curie Cancer Care, Teenage Cancer Trust, Together for Short Lives and WellChild.
Four of the charities that are listed are also supported by Charity Christmas Cards. We want to help in anyway we can and of course raise as much money for each charity that is possible. The charities supported by Charity Christmas Cards include Guide Dogs, Marie Curie Cancer Care, Teenage Cancer Trust and Together for Short Lives.
Guide Dogs supports the people who lose their sight, which amounts to one person every hour in the UK, and are unable to leave their home. 180,000 people with sight-loss are unable to leave their home through fear and isolation, Guide Dogs offers services to tackle the issue.
Marie Curie Cancer Care provides invaluable free care and support for terminally ill cancer patients in their homes and the charities nine hospices – an invaluable service for victims of cancer as well as their families.
Teenage Cancer Trust is a charity that brings young people together and works to reduce the suffering they face because of cancer. They aim to bring the best quality of care and support to young people who are living with this terrible disease.
Together for Short Lives is a caring and invaluable children's charity aimed at bringing a high quality of care to children with serious illnesses and provides loving support to children and their families.
So far, celebrities have been doing their bit and the TextSanta campaign is special due to the participation and the willingness of everyone to take part in helping to raise a serious amount of money.
So what are the events and the how do you donate? Firstly, TV presenter Phillip Schofield completed a 24-hour TV marathon, highlights of which you'll be able to view on the special extravaganza show on the 19th December including his daredevil scaling of London's Shard Building.
Also take in the delights of a special mini-episode of Downton Abbey featuring Hollywood icon George Clooney, Saturday Night Takeaway featuring Ant & Dec also meets TextSanta, a special I'm A Celebrity Get Me Out Of Here choir featuring past participants Helen Flanagan, Kerry Katona, Katie Price and Pat Sharpe. Birds of a Feather with a surprise Santa, The Cube featuring Alesha Dixon and Paddy McGuiness, the ITV Christmas Party as well as exclusive footage featuring the behind the scenes work of the amazing charities that are being supported by the 2014 TextSanta campaign.
There are many ways to donate either through conventional means or through fundraising events. The #TextSantaKodakMoment is looking for the funniest Christmas-themed photos and via Twitter, Facebook or Instagram with the aforementioned hashtag. Kodak Alaris will donate £1 to TextSanta for the first 40,000 posts – the good news is retweets and reposts count too!
The Cycle to Lapland Challenge involving teams from all over the UK who will take part in the a major effort to raise some serious money for charity. Over 30 teams took part from London, Leeds and Manchester and raised £1 for every miles completed, with the incentive to keep going by another mile being added for every £1 donated!,
You can also donate through conventional means such as on the TextSanta website or alternatively donate by text by texting SANTA + the amount e.g. SANTA5 to 70760 to donate £5. Donate by phone by calling 0300 123 6060 or donate at any branch of Santander.
Finally, remember that you can support four of these charities when you buy Christmas cards from Charity Christmas Cards – take a look at the card options here.