The Great "Charity Christmas Card" Bake Off – For Macmillan!
We cannot believe that it's nearly Christmas time already! It feels like we were sipping glasses bottles of bubbly (we won't judge you, we're all friends here), and unwrapping presents just minutes ago. Even though Christmas is an exciting time of year for everyone, its super exciting for us – as it's the one time of year where we can create beautiful Christmas cards whilst supporting some amazing charities by donating money from our sales.
With Christmas creeping up on us faster than ever before, we wanted to get involved with as many special charities and events as possible. Our first stop is the Macmillan Coffee Morning to help people facing cancer. The thought of filling the office with hundreds of yummy homemade treats whilst helping to raise money and awareness for such an important cause who affects so many people really did seem like a win-win situation!
After nagging everyone in the office like crazy we had a fantastic turn out, from coffee cake to strawberry brownies the Coffee Morning was a massive success. We also held a raffle with the opportunity to win 2 hampers full of wine, chocolate and gift cards which people had donated. The only negative factor was how dangerous the cake stall was… it was less than a 3 second walk from my desk and I have zero will power. We thought we'd share our 2 favourite treats below with the recipe on how to make them! Eat your heart out Mary Berry…
Chocolate Buttercream Sponge:
What will I need? 116g of margarine, 116g of sugar, 116g of self raising flour, 1 tblsp cocoa powder, 8 eggs, 250g of butter, 500g icing sugar, cocoa powder, boiling water, chocolate buttons.
Lets get cooking!
1.Grease and prepare 8″ cake tin.
2. Mix margarine and sugar together in a bowl
3. Add eggs to the mixture.
4. Then add the flour and cocoa powder.
5. Place the mixture into the cake tin and cook on 140 C (fan oven) for 2 hours.
How do I make it extra tasty?
1. Mix butter.
2. Mix 6 tblsp of boiling water and 1 tblsp on cocoa powder together. When the cocoa powder is cool add the icing sugar and mix.
3. Pipe swirls on cake and add giant chocolate buttons to finish.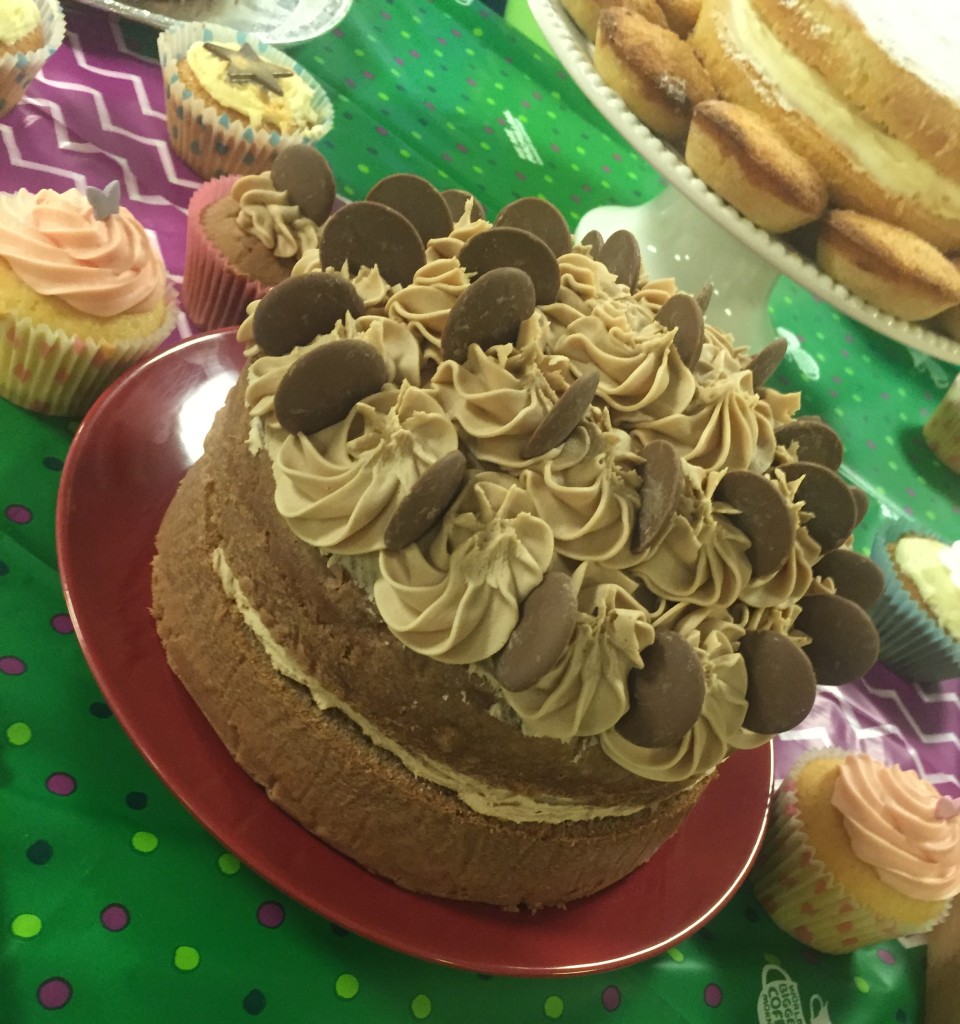 Carrot Cake:
What will I need? 225g self raising flour, 5ml (1 tsp) baking powder, 150g light brown soft sugar , 50g chopped walnuts, 50g raisins, 100g grated carrots, 2 ripe bananas – peeled and mashed, 2 eggs, 150ml (1/4 pint) oil, 65ml fresh double cream, 50g (2oz) icing sugar, 75g (3oz) full fat soft cheese, 2.5ml (1/2 tsp) vanilla essence.
Lets get cooking!
Grease and line 20.5cm (8inch) deep round cake tin.
Sift together flour and baking powder into a bowl and stir in sugar.
Add nuts, raisins, carrots, and bananas stir to mix.
Add eggs and oil, beat until well mixed.
Pour into prepared tin and bake 180 C for 1 ½ hours or until firm to touch.
Remove from tin and cool on a wire.
Whip cream until softly stiff.
Cream icing sugar, cheese, vanilla essence together. Then fold in the cream.
Spread over top of cake and sprinkle with walnuts.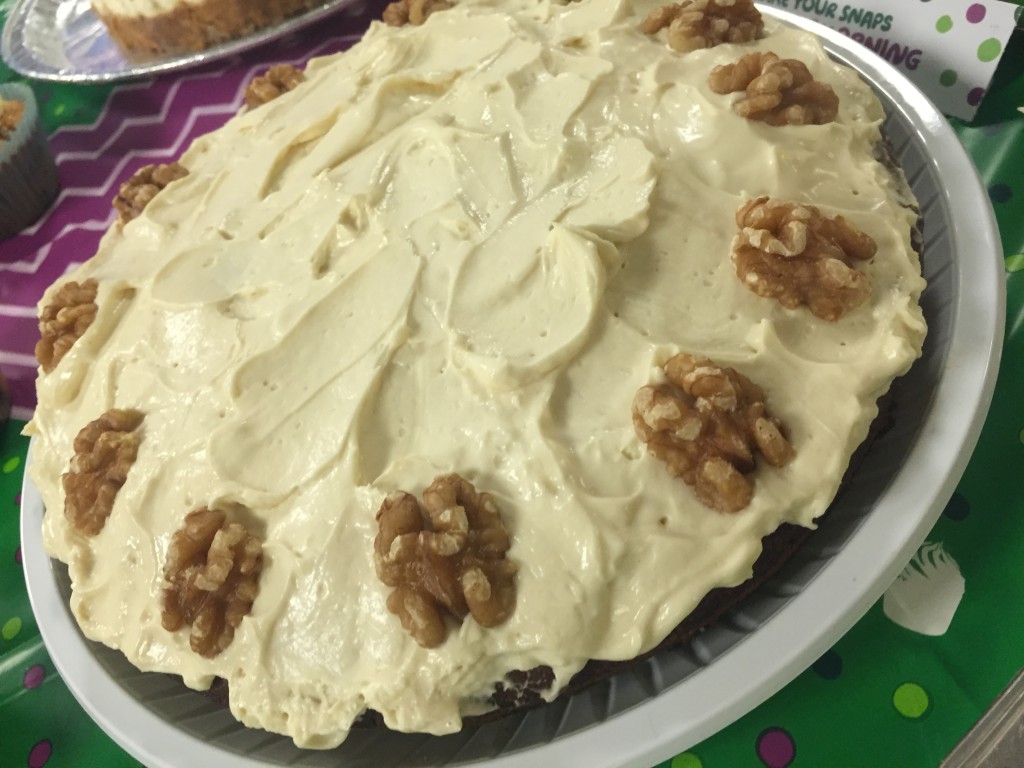 Chocolate Cake With Strawberries & Cream:
What will I need? 50g cocoa powder, 6 tbsp boiling water, 3 eggs, 4 tbsp milk, 175g self raising flour, 1 rounded tsp baking powder, 100g soft butter, 300g caster sugar, 250g dark chocolate, 250ml double cream, 3 tbsp strawberry jam, 300g strawberries.
Lets get cooking!
Preheat the over to 180 C and grease and line two 20cm/8in sandwich tins with baking parchment.
Put the cocoa powder and boiling water into a large bowl and mix well to make a paste.
Add the eggs, milk, flour, baking powder, butter and sugar – and beat until combined.
Divide the cake mixture between the prepared tins and bake for 25-30 minutes.
Leave to cool.
Spread one half of cake with jam, slice the strawberries (keeping a couple to one side for decoration) and layer on top of the jam, followed by a layer of whipped cream.
Place the second cake on top, melt the chocolate and spread over the top of the cake.
Cut the 2 remaining strawberries in half and place in the centre.