Charity Bake Sale for Children with Cancer UK!
Christmas is an exciting time of year for anyone- presents, food and smiley faces everywhere. Here at Charity Christmas Cards it's super exciting as it's the one time of year where we can create beautiful Christmas cards and support some amazing charities by donating money from our sales. With Christmas creeping up on us faster than ever before, we wanted to do something a little bit special.
We really wanted to contribute in a more personal way, something which we can give ourselves rather than as a business. After having a search through the all mighty Internet we decided to support Children with Cancer UK by joining there Bake Club. The thought of filling the office with hundreds of yummy homemade treats whilst helping to raise money and awareness for such an important cause really did seem like a win-win situation!
The charity supplied us with a resource pack, which included posters, allowing us to spread the word of the event date, time and place. We decided to go for the 29th of October. We also received buntings and balloons prior to the event to help make the stand look as good as it tasted.
We were so surprised at how much effort everybody put into the event! Some of the cakes looked amazing- eat your heart out The Great British Bake Off. The stand was full of all different treats from pre-bought biscuits to home-made toffee chocolate apples. The only negative factor was how dangerous the cake stall was… It was less than a 3 second walk from my desk and I have no will power! All in all the event was a success so we thought we'd share our favourite 3 delicious treats below and the recipe on how to make them.
Our Head of Digital Marketing, Dan, decided to bring in some "home-made" muffins. Everyone was surprised at how lovely they looked, nice and golden with chips of chocolate glazing through. It was an even bigger surprise when they tasted as amazing as they did. We're not too sure if our initial suspicions of him buying them from a supermarket were completely wrong… The packaging looked very professional and similar to Mr Tesco's. Dan claims his recipe is a "family secret", so if you're wanting to get your hands on some mouth-watering muffins why not try This American Muffin Recipe direct from the Children with Cancer UK's website?
One of our other favourite cakes was conjured together by our PPC expert. Mark always talks the talk and likes to think of himself as a bit of a chef… We are so sorry for doubting you as the cake was delicious. The chocolate fudge cake was defiantly one of the favourites in the office, selling out by 1pm! We don't know the exact recipe used by Mark but if you fancy nibbling (scoffing is probably a more appropriate term) on some Fudge Brownie Cupcakes just select the link above.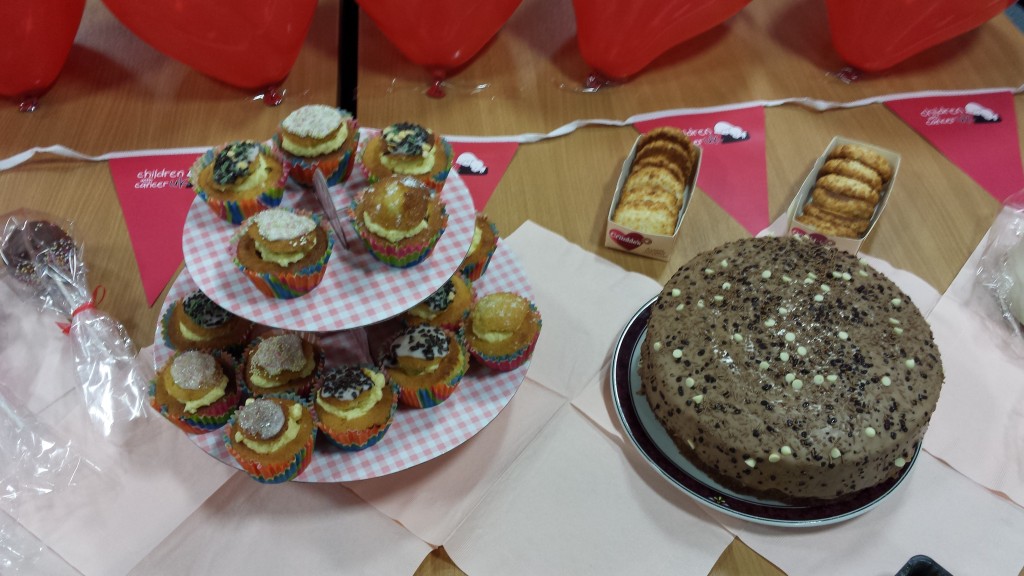 The lemon drizzle cake which was brought in by Cindy, our Marketing Specialist was indescribable. It was a nice alternative to have, as the stand was dominated by chocolate and vanilla styled cakes. I'm not a massive fan of lemon but this was heaven, not too strong or zingy, just the perfect combination which went down ever so lovely with a cup of tea. Taking 50 minutes to bake we feel like this cake is a winner after a Sunday Dinner or just as a cheeky snack!
After a hard evening of baking and an even harder day of eating we ended up making £42 in total, which was a good effort! Next year we hope to do more events like this to help show our appreciation and support for charities across the UK. If you have any ideas on how we could do this feel free to let us know, we'd love to hear your suggestions.