Should You Send Christmas Cards After a Bereavement (And What Do You Write)?
Losing someone is one of the hardest times in anyone's life, and there's no doubt that it can become more painful when the holiday season arrives. This year in particular, a lot of people have lost a family member as a result of the pandemic (whether directly or indirectly).
But of course, people lose people all the time, so sending Christmas cards after someone has lost a loved one is a situation that you may have to face multiple times. And it's one that you have to navigate carefully.
If you're already curating your Christmas card list and you have a few people who lost someone this year, it's very important to be mindful about their feelings while still making sure that they feel loved and valued during this season. Should you even send them a Christmas card at all, or would this be too insensitive? And what do you write inside? Let's discuss this now.
Do You Send Christmas Cards After Death?
You might be wondering if it's even okay to send a Christmas card to someone who's grieving, and you're not alone. A lot of people choose to skip giving holiday cards to people who've lost a loved one to avoid offending them and making their experience more painful.
But while being reminded of the holiday season after losing a loved one can be painful, it can also be comforting and even healing to most people who receive these cards. You just need to take some extra steps to make sure that your recipients feel loved and cared for.
The last thing you want to do is to be insensitive. On the one hand, you don't want to draw extra attention to their pain – but you shouldn't ignore it completely, either, otherwise it may come across as callous. Follow these tips:
Avoid Very Festive Christmas Card Designs
While you have the intention of making someone feel more cheerful this holiday season, you also need to understand that choosing a very festive, jolly, or funny Christmas card design could easily be seen as poor taste, and could stir up emotions.
That is why it's best to stick with a minimalistic yet still beautiful card that will allow you to send your greetings without putting salt to any wound. A great example is this simple and contemporary Christmas Reindeer design. Definitely avoid any Christmas cards that feature happy families enjoying the festivities together if the recipient has lost a relative.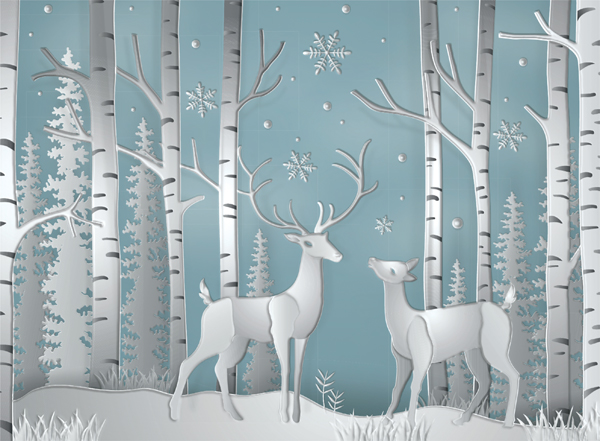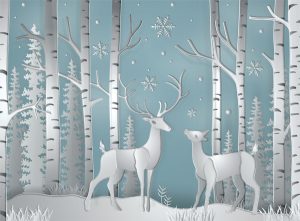 What's important here is the message that you'd like to send, so you don't need to go fancy with Christmas card designs.
Pay Attention to the Little Details
If you're used to sending a lot of Christmas cards each year, it's so easy to get lost in generic greetings. But if you're writing for people who just lost a family member, you need to be extra mindful with the little details that could easily make their grieving worse.
For instance, if you're used to addressing the couple on your past Christmas cards and your friend has lost her husband, ensure you don't accidentally address them both in your card this year because that could cause a lot of emotional pain.
If a friend lost a child, you don't need to share about your own child's milestones because that could only cause pain. The trick here is to write everyone else's cards first and curate a special message to friends who lost their loved ones.
You can still talk a bit about the one who died to let your recipient know that you still remember him and that could be part of healing. Just be careful with your words to avoid offending anyone instead of comforting them.
Keep Your Christmas Message Simple, Yet Thoughtful
Ideally, don't buy a pre-printed card off the shelf that contains a jolly Christmas message. This may be quite insensitive and inappropriate. Order a personalised Christmas card so that you can write the greeting yourself.
It's hard to write a message for someone who lost a loved one because you don't want to add to their grieving. But avoiding the topic completely could make you look insensitive. Acknowledging this difficult time in their life may help them feel that you are with them in this journey.
After doing that, you can write about hope and strength to tie in with the holiday season. This gesture is already more than enough to let these people know that you are thinking of them not only during Christmas but throughout their journey of healing. Here are some messages that you can draw inspiration from:
• "Our thoughts are with you during the holiday season, and we wish you peace and comfort not only at Christmas but also for the rest of the coming year."
• "I can imagine how difficult the holiday season must be for you this year, but I want you to know that you're in my thoughts every day. Here's to better days ahead."
• "Sending all our love and thoughts to your family during the holiday season. May the promise of hope and love this Christmas lighten your burden and show you that you are loved by many."
• "This might not be the happiest Christmas for you, but I hope you know that we are here for you. We wish that this New Year will bring you comfort and hope as you begin to heal."
• "Know that we are thinking of you and are offering our prayers for you this Christmas. May you feel our love this holiday season and know that we are a call away if you need anything."
• "Thinking of you during the holiday season and praying that your house is filled with love as you celebrate Christmas. We are here for you when you need us."
To a great extent, what you write in the card will depend upon your personal relationship with the bereaved, and their personality. The above ideas are great starting points, but try to personalise the message if you can.
For example, if you know that the recipient needs and wants to talk about their lost loved one, you can bring up a happy Christmas memory that you shared with them. But if the bereavement is very recent and there's still a lot of raw pain, this might not be the best idea.
Avoid Bringing Up Your Personal Struggles
If you're the kind of person who enjoys writing letters in Christmas cards to your friends and relatives, it may be second nature for you to bring up your (and your family's) struggles and achievements in your holiday cards. However, you need to be careful about talking about your own struggles when writing a Christmas card to someone who's suffered a loss.
Whatever struggles you're facing right now, it isn't right to complain about this to someone who is grieving a loved one. Never make it sound like you're comparing your own experiences to someone and avoid making the conversation about you and not your recipient.
While you can share some of your experience to make you more relatable, you should focus on uplifting messages that will make your recipient feel valued and loved without being too intrusive.
Consider Your Recipient's Religion (or Lack Thereof)
It's not uncommon to say phrases like "you are in our prayers…" or "We will be praying for you…" and even include some Bible or religious quotes with your message.
But you should only do this if you're completely familiar with your recipient's religious practices. You have to be sure that the person you're writing to is a practising Christian, and wouldn't take offence to such phrasing.
If you're not entirely sure, it's best to stick with the more generic greetings that still hold the same value without the risk of offending someone. For example, substitute the word "prayers" for "thoughts".
Skip the Family Portrait
If you're someone who likes to create customised Christmas cards with your own photo, and you typically include a family portrait in your Christmas cards, you should skip it for those who just lost a loved one.
Opening up a Christmas card only to see a family portrait with happy, smiling loved ones can remind the bereaved of the loss they have just experienced. If someone's family member has passed away, it's best to skip the group photo and just send a more generic Christmas card with a pretty design. You could still use your own photo, but perhaps choose a shot of your snowy back garden, your Christmas tree, or even your pets. And you can (and should) still personalise the message on the inside to let the recipient know you're thinking of them.
Where Can I Order Christmas Cards This Year?
With holiday cards being a British tradition, sending your Christmas cards to everyone you love and value is a great way to remind them of your friendship.
This is especially true for people who lost a loved one: they need plenty of love, comfort and support as they navigate life without one of the people closest to their hearts. Sending a Christmas card to someone who's grieving is a simple way of letting them know that you acknowledge their grief and that you're there to support them whenever they need you.
At Charity Christmas Cards, we stock a wide range of beautiful, simple and sensitive Christmas card designs that would be appropriate to send after a bereavement. All of our templates can be personalised with your own wording.
And because all of our cards include a charitable donation, why not pick a cause that you know would mean something to your recipient? For example, if they have lost a family member to cancer, you might choose to donate to a charity that funds cancer research or care for cancer patients. Start by browsing our website today, or view our brochure.