13 Cute and Funny Christmas Card Designs for Kids
Children bring so much joy into our lives, so what better time of year to thank them for the happiness they bring than Christmas time? No doubt you want to spoil the little ones you know personally, whether they're your own children, your grandchildren, nieces, nephews, or even your friends' kids.
While it's true that most kids are more interested in presents than Christmas cards – or are only interested in them due to the possibility that they might contain a crisp £5 note – that doesn't mean that cards go completely unappreciated! You can still make an effort to choose a kid's Christmas card design that they'll enjoy.
Kids particularly appreciate humorous Christmas card designs that will make them laugh. Whether it's a cartoon or a cute festive scene formed out of sweets, here are 13 fun kid-friendly Christmas card designs that the littlest people in your life are sure to love.
Everybody loves cute and fluffy animals, but there's something a bit odd about the polar bears on this fun Christmas card. They're round, with a hole in the middle. In fact, as a cartoon Father Christmas explains to his sidekick Rudolph, they aren't polar bears at all, but polo bears! This hilarious card is illustrated in a fun cartoonish style, with bright colours that will catch the eye of any child this Christmas – and they're bound to laugh aloud at the silly joke.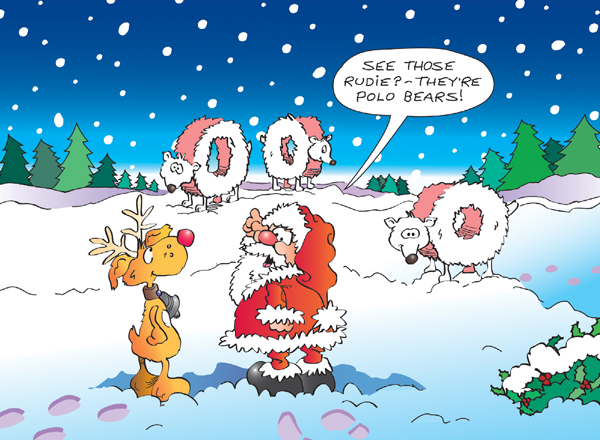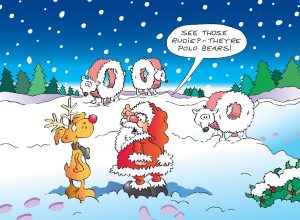 Nobody loves hot chocolate and marshmallows more than kids – it's a firm favourite wintertime treat. On this sweet and silly card, three marshmallows have been used to create an adorable little snowman, complete with a candy scarf and food-colouring buttons. The sweetie snowman is taking a relaxing dip into a mug of hot chocolate, with Christmas lights in the background. Any child is sure to adore this lovely card – just don't be surprised if they ask you to recreate it in the kitchen!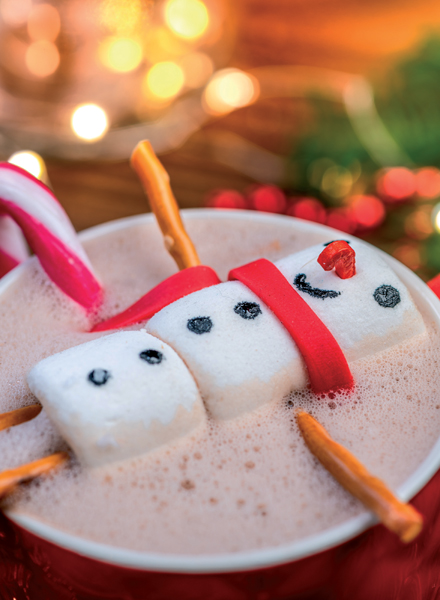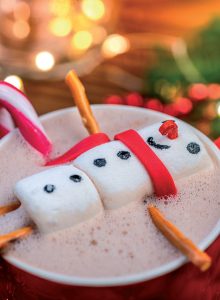 On this contemporary cartoon Christmas card, a group of four Christmas carollers can be seen singing out "we wish you a merry Christmas" into the cold night air – but they happen to be snowmen! Each of the snowmen is sporting a piece of silly Christmas headgear, whether it's a Father Christmas hat, a tiny top hat or a set of reindeer antlers. Any child is sure to love this sweet design, which also features a tall Christmas tree topped with a white star.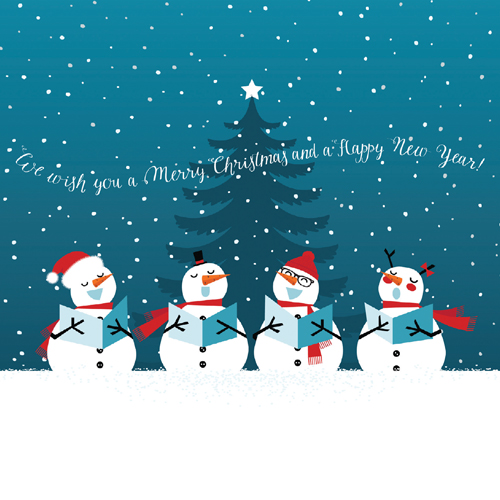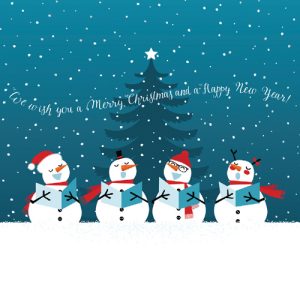 You won't find a kid anywhere that doesn't love a gingerbread man – so why not opt for this sweet Christmas Table card for the littlest people in your life? The design features a beautifully decorated gingerbread man wearing a red candy bow, leaning up against a large red mug filled with hot chocolate. A basket of delicious Christmas biscuits can be seen in the background, along with the lower branches of a brightly-lit Christmas tree. A jolly card for any child!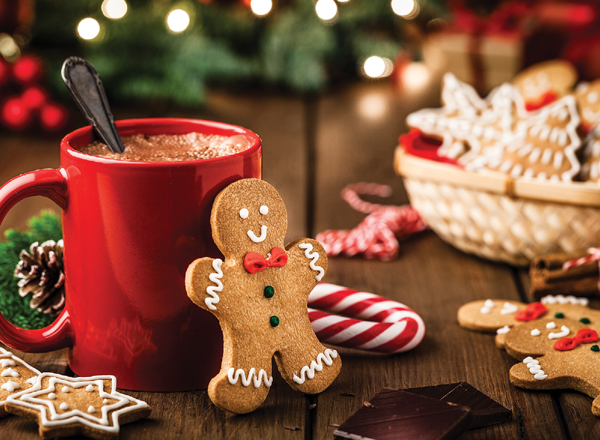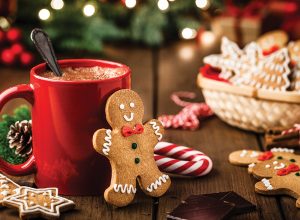 Cupcakes are a firm favourite children's treat at any time of year, so any little one would be glad to receive this yummy card. On the front of this photographic Christmas Cupcakes card, four miniature cakes have been decorated with thick white icing and marshmallows to look like snowmen! One of the snowman wears a pair of chocolate reindeer antlers while the three in the background wear miniature Father Christmas hats. Colourful sweetie decorations serve as buttons, and the snowmen's noses.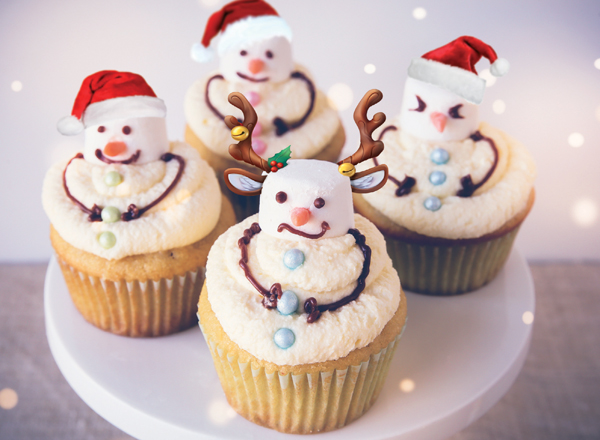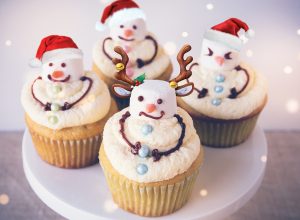 This cartoon Christmas Intruder card is the height of hilarity, and any child would be thrilled to open it on Christmas morning. It features a cartoon illustration of Father Christmas on the roof of someone's house, being chased back up the chimney by a ferocious family dog. He clings to one of his reindeer in fear as the angry pooch barks, foaming at the mouth – there's even a patch missing from the seat of Santa's trousers, revealing his polka-dotted bloomers underneath!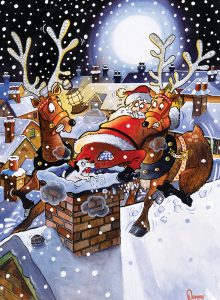 This sweet and contemporary Christmas Love card features a yummy design that any child would love. Two adorable snowmen have been created from fluffy white marshmallows, food colouring, sweets and miniature pretzel sticks. Wearing tiny Father Christmas hats, they lie in a mug of frothy hot chocolate, enjoying a relaxing evening at home! The background of the card is a Christmas tree, strung with bright fairy lights.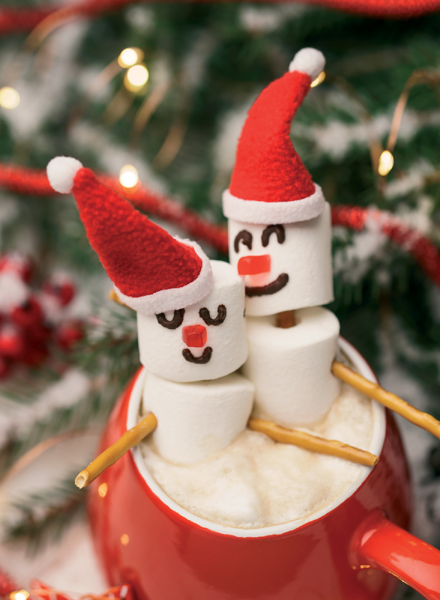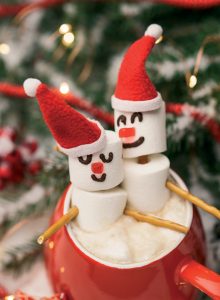 This adorable and humorous Christmas Pine Cones card is bound to elicit a chuckle from anyone – from the tiniest toddler to the grown-up Mums and Dads! This sweet photographic design depicts two winter pine cones, bearing a coating of white snow on the tips of their seed scales, and each one wearing a miniature Santa hat. Two comical googly eyes have been attached to the white trim of each hat, giving the pine cones a little personality. You might take inspiration from this card for a simple Christmas craft with your little ones, too!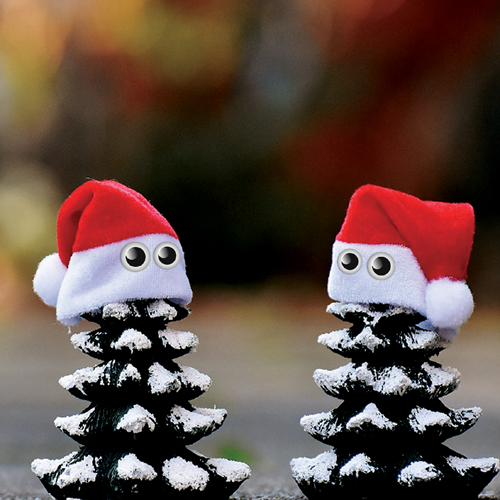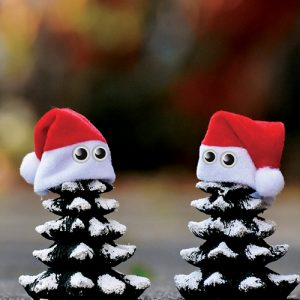 Any child is bound to laugh at this hilarious Christmas Retreat card, which shows what Father Christmas and his reindeer get up to once they've finished delivering all of their presents on Christmas Eve. Illustrated in a cartoonish style, the unusual pair can be seen in their swimming trunks, relaxing on sun loungers on a beautiful and sunny tropical beach and sipping on orange juice. A calendar affixed to a beach umbrella lets us know that it's Boxing Day.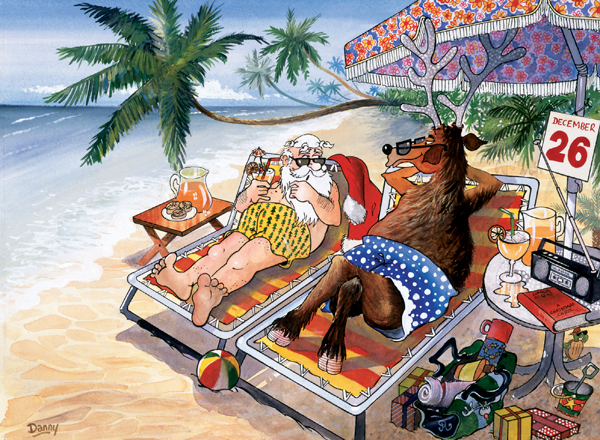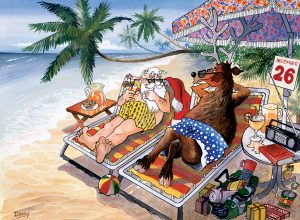 This humorous Dancing Santa Christmas card is bound to get the little ones smiling and laughing. We don't often see Father Christmas and his reindeer dancing a jig, but that's exactly what this funny cartoon card depicts! The design features Santa front and centre, wearing his iconic red suit with a reindeer on either side of him, dancing away on an icy lake. Snowflakes fall around them as they boogie into the night.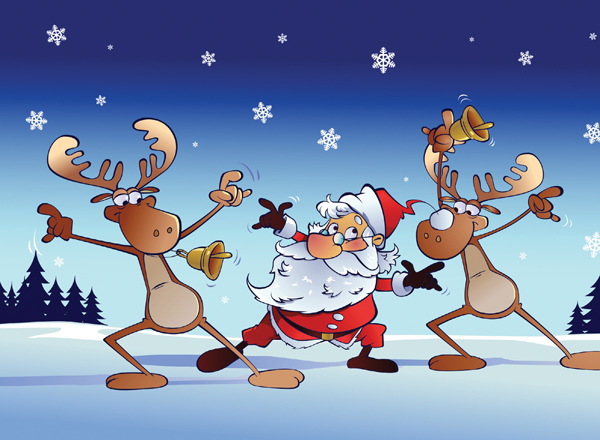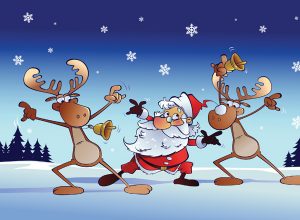 This humorous Holding On Christmas card, illustrated in a cartoonish style, depicts Father Christmas having some problems delivering presents in a house with a rambunctious puppy! The energetic canine has chased poor old Santa right to the very top of the Christmas tree while he was busy laying presents underneath. Pine needles and baubles are flying everywhere as Santa clings to the top of the tree, the dog dangling precariously from his beard.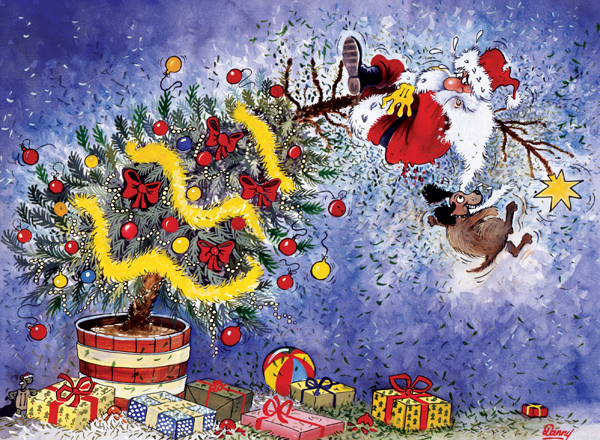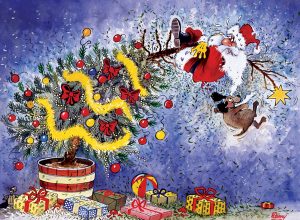 Any child is sure to love this adorable Christmas card, which features a sweet and jolly snowman sitting on the snowy ground, with frosted fir trees in the background. The only difference is that this snowman is made of marshmallows, and entire edible! With a happy black icing smile, the marshmallow snowman waves with his pretzel stick arms, sporting a red candy scarf. It's the ideal Christmas card for any sweetie-loving kid (or adult, for that matter).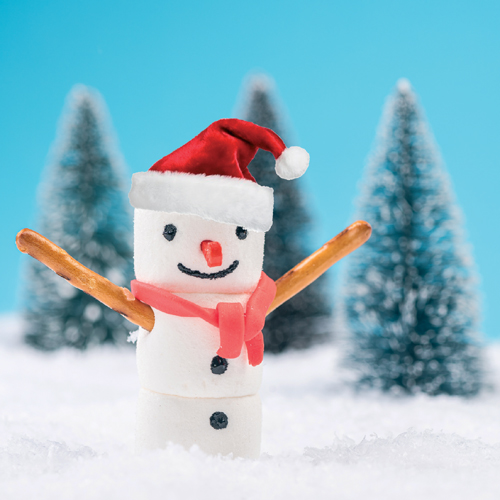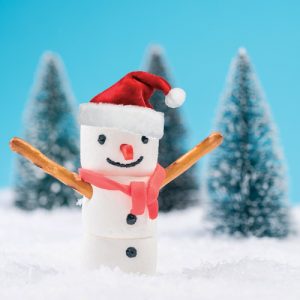 Present Drop is a funny cartoon Christmas card that shows us exactly how Father Christmas manage to deliver presents to so many homes on Christmas Eve. Going down the chimney has gone out of fashion – instead, Santa has turned present-dropping into a golf-like sport that keeps the activity fun and fresh! Father Christmas, standing on a snowy roof, hits a present with his golf club and sends it shooting down a chimney on the house opposite.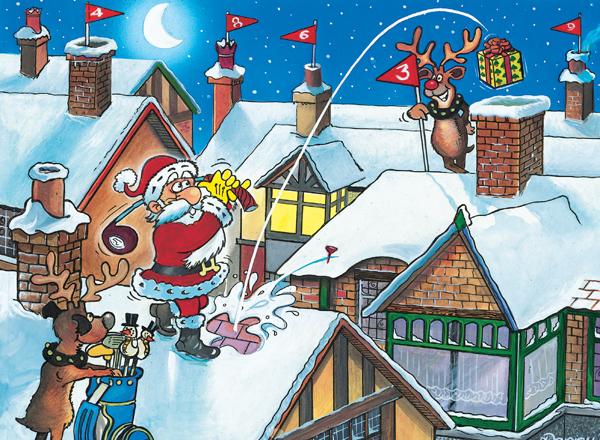 Why Choose Charity Christmas Cards This Year?
Here at Charity Christmas Cards, we have a huge range of cute, funny, and cartoon Christmas cards perfect for the little ones in your life. We also offer a wide selection of traditional, illustrated, religious, contemporary and even corporate designs, so you can find something suitable for all of your loved ones and professional contacts this year!
All of our Christmas cards are fully customisable with our easy, free-to-use online editor. Simply add your own personal message to the inside of the card in your preferred font, and we'll have your design printed swiftly and professionally, and delivered straight to your home in your chosen quantity.
For an even more personal Christmas card, why not choose one of our photo upload designs this year? You can easily add your own picture to the front, whether it's a family portrait or your youngest child's latest artwork, for a one-of-a-kind card that your friends and family will cherish for years to come.
And as every order comes with a charitable donation at no extra cost to you, you can give back to those in need with just the click of a button!