Save The Children's Annual Christmas Jumper Day
Picture this Christmas scene: snow is falling outside while indoors there's an open fire and twinkling lights on a Christmas tree. Stacked underneath are presents and gifts just waiting to be opened, traditional music is playing. Then of course there's the knitwear that everyone is wearing, you know the embarrassing jumper you are forced to pull out every year.
As embarrassing as it may have been to wear them in the past, these days a lot of people wear their Christmas jumpers with pride to show how much they love Christmas! Seeing Christmas jumpers in the shops is as sign Christmas is coming in the same way the Coco Cola advert and the Starbucks red cup make people feel Christmassy!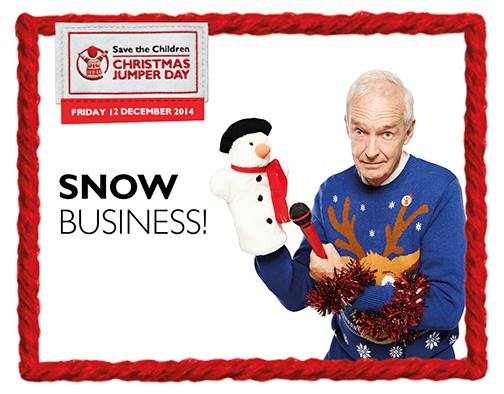 The charity Save the Children want to use the happiness people get from wearing Christmas jumpers for a good cause and their annual "Christmas Jumper Day" takes place o the 12th December this year.
Their motto is "wear a woolly Christmas jumper and donate £2" and since the first Christmas Jumper day in 2012 they have raised more than £1.6 million. Find out more about how you can donate here and if you're stuck for a jumper to wear on the 12th, here are some of our picks!
Christmas Jumpers for Bah! Humbug! Scrooges
Perhaps the most difficult audience to find an appropriate Christmas jumper for – people who don't like Christmas! Avoid anything with Santa, Rudolph, reindeers and Christmas trees and pick a jumper that has more of a "winter" theme, a snowflake perhaps?
Crazy over the top Christmas Jumpers
If going subtle isn't your thing and you are willing to go all out – after all why shouldn't you? Pick a bold, loud Christmas jumper and if you can find one, a design with twinkling lights!
This nifty little jumper has a slot for your smartphone to give the illusion that the santa on your jumper is moving!
The Christmas Jumper for Designer Label Lovers
If you're the type of person that loves your labels, then fear not, even high end designers have Christmas jumper designs that you can feel stylish and festive in!
Comedy Christmas Jumpers
There's no shortage of comedic, funny and pun-intended Christmas jumpers to choose from this year, with slogans like "Santa Claws"and "Elf and Safety" to jumpers featuring famous Christmas movie quotes like "Merry Christmas Ya Filthy Animal".
If the festive season and Christmas jumper day has put you in the mood for charitable giving, click here see the list of other Children's charities that you can support this Christmas with your charity Christmas card purchases.